DURATECH 27PCS Flex Head Ratchet Wrench Set Extra Long, Double Box End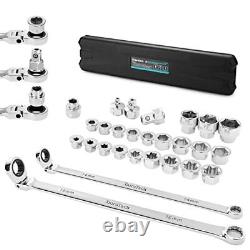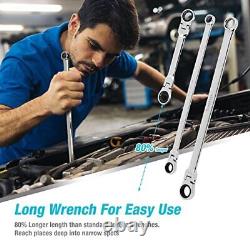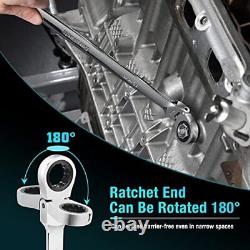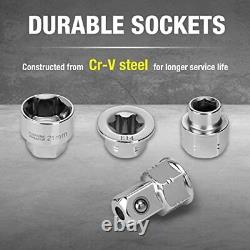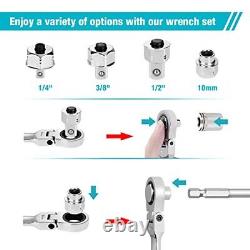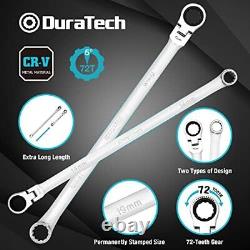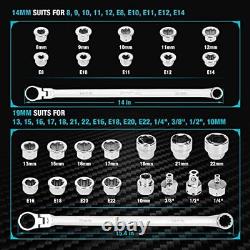 DURATECH 27PCS Flex Head Ratchet Wrench Set: Extra Long, Double Box End. Enjoy a variety of options with our extra-long ratcheting wrench set. 2 wrenches, 27 sizes, super cost-effective, wider application range. With a 14mm extra-long ratchet wrench (compatible with 8-12mm and E8-14 replacement heads) and a 19mm extra-long ratchet wrench (compatible with 13-22mm and E16-22 replacement heads), which can be switched freely. And it is also equipped with four types of adapters, which can be a ratchet handle or a screwdriver. 2 PCS flex head ratcheting wrench: 14mm, 19mm; 12PCS replacement heads: 8-9-10-11-12-13-15-16-17-18-21-22mm; 9 PCS E-torx star socket: E8, E10, E11, E12, E14, E16, E18, E20, E22; 4 PCS socket adapter: 1019mm, 1/4"Dr19mm, 3/8"Dr19mm, 1/2Dr19mm. Our wrenches as well as 25pcs replacement heads and adapters are both forged from high-quality chrome vanadium steel, with high hardness, high torque, good toughness and longer service life.
Not only are the sizes printed on the wrenches and replacement heads, but the dimensions are also printed on the storage location of the case, which is easy to identify and makes organizing easy. ULTRA-LONG DESIGN & 72-TOOTH RATCHET? The unique ultra-long design can increase the torque, which is easier and more labor-saving than other box wrenches on the market.
The 72-tooth ratchet gears need only a 5-degree working swing arc. One end of the elastic head provides 180 degrees, which is convenient for use in narrow places, and the other end of the fixed head provides stronger support, suitable for loosening and tightening fasteners. Used to tighten hexagon head, square head bolts or nuts, usually used for assembly and maintenance operations of mechanical equipment. Any product you return must be in the same condition you received it and in the original packaging. We usually respond within 24 hours on weekdays.
Thank you for shopping at our store.