24pc IN/MM TIGHTSPOT Ratcheting Wrench Set MASTER SET 24pc Inch + Metric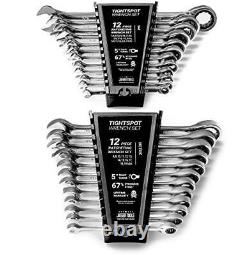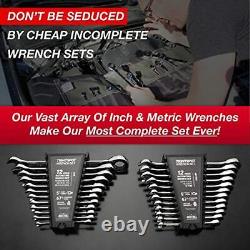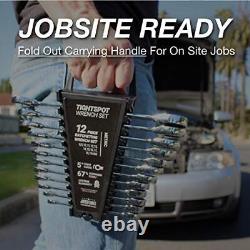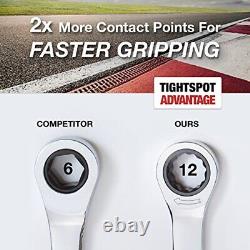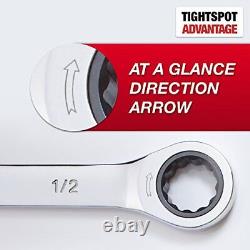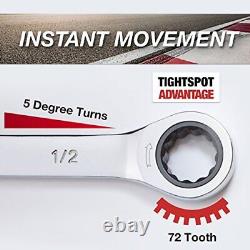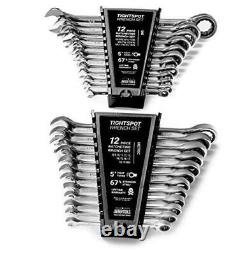 24pc IN/MM TIGHTSPOT Ratcheting Wrench Set - MASTER SET 24pc Inch + Metric. 24 piece Master Set sizes: 1/4", 9/32", 5/16", 11/32", 3/8", 7/16", 1/2", 9/16", 5/8", 11/16", 3/4", 7/8" & 8mm, 9mm, 10mm, 11mm, 12mm, 13mm, 14mm, 15mm, 16mm, 17mm, 18mm, 19mm Quick access wrench organizer: Avoid messy rollup bags just to get 1 wrench out! Not to mention the painstaking time it takes to organize, and perfectly roll up. Our wrench organizer almost magically cuts this time down to seconds. Our ultimate TightSpot wrench to work faster in small spaces: Our incredibly priced, 5 degree ratcheting movement is designed to access spots w standard wrenches will not have enough swing.
The 72 teeth inside the 100% steel ratcheting box end will speeds you through jobs quickly with no need to lift. And without lifting, you stay glued to the fastener until the turning is done, even if you're reaching deep into a compartment or appliance. Powerful 7 stage construction for lifelong reliability: Our secret is drop forging & heat treating our amazing steel alloy.
Aerospace Grade Vanadium hardens our steel alloy even more, while chromium helps to prevent corrosion. Reduce bolt rounding: The reinforced open end holds on tight to fasteners for reduced bolt rounding. Habitat for Humanity donor: When you build your dreams with us, it enables us to build other's dreams.